Prof Xavier Leleu - Clinical implication of heavy/light chain measurement in Multiple Myeloma
Professor Xavier Leleu spoke about the clinical implication of heavy + light chain isotype measurement in Multiple Myeloma at EuroMedLab 2015 in Paris.

Warning: This information refers to at least one indication which has not been cleared by the FDA. Safety and effectiveness have not yet been demonstrated for this new indication and therefore its use cannot be recommended.
This information is distributed purely for educational purposes and is not intended to promote or encourage any off label use of Binding Site products.
For more information please see thebindingsite.com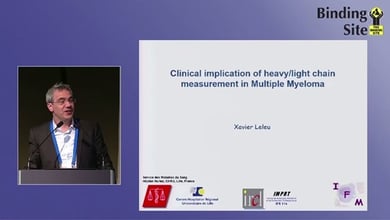 Learn what Prof Leleu says about:

- Hevylite® being included in guidelines to measure IgA monoclonal protein in myeloma patients

- The clinical impact of inaccurate measurement of IgA monoclonal protein by traditional methods

- Using Freelite®

and Hevylite to reduce laboratory costs and clinical interpretation time when assessing response to treatment in myeloma

- The unique ability of Hevylite to indicate immune system recovery during therapy